Film developing for your disposable single-use cameras.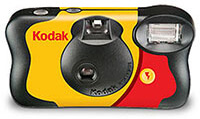 We can develop and print or scan your disposable (single-use) cameras, including 35mm as well as Advanced Photo System (APS) single use cameras.

You can choose 4x6 prints, have your pictures scanned to CD, or both. Prints are available in matte as well as glossy finish, and both with borders or without.

We also offer disposable camera processing by mail!
---
Our film processing prices are setup so that you pay for the developing then add the price for prints, scans, or both if you would like. Also, if you order prints and scans from your 35mm or Advanced Photo System (APS) film at the same time we will give you the discounted price of $4.99 per roll on scanning the roll to CD.
Disposable camera developing
Film developing
4x6 prints at the time of processing
Second set of prints

3.99
.30
.15
Disposable camera scanning
Scan to CD with prints ordered
Scan to CD only, no prints ordered
Scan to CD, medium resolution

4.99
7.99
13.00
Mail your disposable camera to us for processing!

Get the same professional quality film processing without ever leaving home. Just download and complete an order form and send it in along with your film. It's easy!



<!Footer>